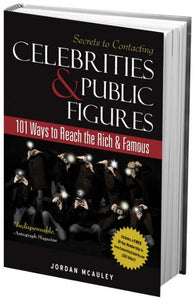 Secrets to Contacting Celebrities & Public Figures: 101 Ways to Reach the Rich & Famous
By Jordan McAuley, Founder, Contact Any Celebrity
Includes a FREE 30-Day Membership to ContactAnyCelebrity.com ($39.00 Value!)
Need to contact a celebrity? Now you can!

Filled with insider tips, tricks, and techniques, 'Secrets to Contacting Celebrities and Public Figures' reveals everything you need to know to reach today's hottest stars in person, online, and by mail!

Maybe you want an autograph from your favorite actor. Or perhaps you'd like your photo taken with your favorite singer. Or maybe you're looking to get a baseball player to sign a jersey for your little brother. Whatever your need for contacting a celebrity, this book will help you succeed.

You'll discover how to get past the velvet rope plus:

* How to get free autographed photos, signed memorabilia, and personal notes from your favorite celebrities

* How to contact actors, athletes, musicians, politicians, talk show hosts, authors, supermodels, comic book artists, and more.

* How to get up close and personal with today's hottest celebrities at parties, movie premieres, and live appearances

* How to get backstage at concerts; rub elbows with the rich and famous for business or pleasure
* Plus much more!
Includes a FREE 30-Day Membership to ContactAnyCelebrity.com ($47.00 Value!)
ISBN: 978-1604870015
Binding: Soft Cover Perfect Bound  Pages: 156  Size: 6x9"  Weight: 6.4 oz.
To Order By Mail:
Send a check/money order payable to Contact Any Celebrity for $14.95 (Free Shipping!) to us below. Include a note with your name, email and shipping address.
Contact Any Celebrity
8721 Santa Monica Blvd. #431
West Hollywood, CA 90069-4507